Intervet Philippines 10 year loyalty awardees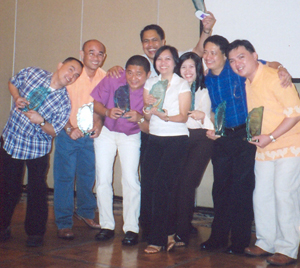 It was a memorable and special day for Intervet Philippines, Inc. Truly it is a day worth celebrating. Last July 28, 2006, together with all its employees and business partners nationwide, Intervet Philippines commemorated its 10 years of existence as a local subsidiary of Intervet International with a whole day celebration.
It started with a welcome lunch, followed by an enjoyable bowling tournament and culminated with an anniversary dinner with a special program. It was an opportune time to recognize and thank all of the business partners and the 8 employees that are part of the original team in 1996. The evening was spiced up by special performances most especially from the 10 year loyalty awardees. The celebration ended in the dance floor where all loosened up and showed their long-hidden dance moves.