Intervet saves the La Mesa Watershed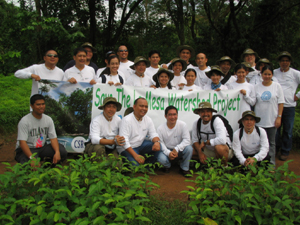 As part of its global commitment to help preserve its environment, Intervet Philippines embarked on a plan to be part of the Save the La Mesa Watershed project. By adopting 1 hectare in the site, Intervet Philippines' employees planted the seedlings last December 2005. The Molave seedlings grew fast and by July 2006 it was ready for transplanting.
The whole team went back and with shovels in their hands transplanted the seedlings enough to cover the whole 1 hectare. It was a good activity and the team felt good that it was part of this project. Now the future of potable water in the capital is assured because of small efforts like this from a lot of individuals that when combined bears great fruits.