Intervet Philippines adopts PAWS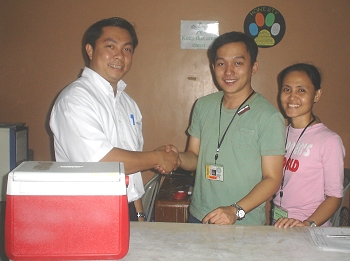 The Philippine Animal Welfare Society Inc. (PAWS), a non-profit, non-governmental organization that focuses on humane education and animal rescue projects, has found an ally in Intervet Philippines. Some of PAWS regular projects involve the rescue, protection and rehabilitation of stray animals. Since most, if not all, of the rescued stray animals are either sick or in very poor health, it is considered important for the resident animals in the shelter to have immunity against major infectious diseases common in companion animals.
Upon the recommendation of Dr. David Y. Arceo of the PAWS Animal Rescue Center (PARC), PAWS sought the assistance of Intervet for their vaccine needs. According to him, "Infectious diseases in stray animals are always on red alert, therefore sound health combined with the use of one of the best vaccines available is a must! I recommended using the Nobivac brand of small animal vaccines, because it would also make the convalesced animals immunocompetent in the future."
Intervet and PAWS acted immediately by forging a partnership that would enable them to provide more than adequate protection to all the animals in the center.
Dr. Mel Umandal, Technical Manager for Poultry & Companion Animal Products of Intervet Philippines delivered the first batch of vaccines (Nobivac DHPPi+L). On behalf of PAWS, Shelter Manager Dr. Jeffrey Chua accepted the package and promised to continue PAWS' noble task – "People helping animals. Animals helping people."
---
[Photo] – From left to right: Dr. Mel C. Umandal, Technical Manager for Poultry & Companion Animals of Intervet Philippines, Inc., Dr. Jeffrey B. Chua, Shelter Manager of Phil. Animal Welfare Society, Inc.(PAWS) and Ms. Christine Oxales, Shelter Secretary of PAWS.