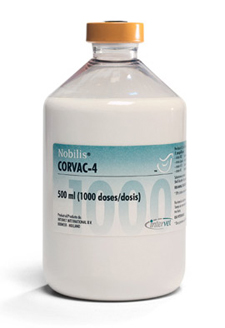 The first tetravalent Coryza vaccine that gives the broadest spectrum of Coryza protection. An inactivated vaccine containing serotypes A, B, C and variant type B of Haemophilus paragallinarum suspended in water-in-oil adjuvant for the immunization of chickens against Infectious Coryza.
Description
Nobilis Corvac-4 is a an inactivated vaccine for the immunization of chickens against infectious Coryza, caused by the bacterium Haemophilus paragallinarum
Composition
Active substances per dose of 0.5 ml: H. paragallinarum
-strain 083(serotype A): at least 1 CPD70
-strain Spross (serotype B): at least 1 CPD70
-strain H-18(serotype C): at least 1 CPD70
-strain 48 (serotype variant type B): at least 1 CPD70
Formulation
Water-in-oil emulsion.
Indications
For active immunisation of chickens to reduce infection and clinical signs of infectious coryza caused by Haemophilus paragallinarum (serotypes A, B, C and variant B). The protective effects are demonstrated from 3 weeks up to at least 49 weeks post vaccination
Vaccination
Nobilis Corvac-4 can be administered to chickens from 3 weeks of age onwards with a revaccination before lay. The interval between the vaccinations should be at least 6 weeks.
Dosage
0.5ml per bird
Method of administration
Subcutaneous injection into the lower part of the neck.
Withholding period
Zero days
Presentation
500ml PET Bottle (1000 doses)
Storage
Store at 2-8°C. Keep the vials out of direct sunlight and avoid freezing.
Contra-indications
When used according to instructions: None
Further information
– Vaccinate healthy birds only.
– Shake the bottle well and allow the contents to reach room temperature (20-25°C) before use.
– Use sterile injection equipment.
– Use the entire contents within three hours of opening.
– Do not mix with other vaccines.
Dispose of waste material in accordance with local requirements.
Precautions
In case of accidental self injection (or injection of a bystander) with this product, seek immediate medical advice indicating to the doctor that you have injected yourself with a water in oil emulsion vaccine.