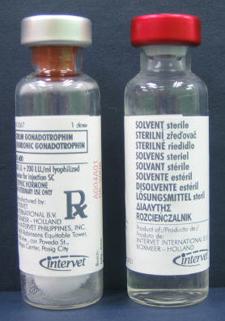 Serum gonadotrophin (PMSG) 400 IU and chorionic gonadotrophin (HCG) 200 IU in lyophilized form.
USES: PG 600 combines the 2 most important hor­mones playing a role in the development of folli­cles and their ovulation. The combination of hormones promotes the development of a fertile estrus cycle in the pig. The serum gonadotrophin stimulates the development of follicles, the chorionic gona­dotrophin promotes ovulation and the formation of corpus luteum.
INDICATIONS: Prepubertal gilts: Induction of puberty at 6-7 mos of age; prevention of delayed puberty at 8 mos or over. 1st parity sows: Prevention of anes­trus on day of weaning. Multiparous and 1st parity sows: Treatment of anestrus at day 8-10 after weaning. Multiparous and 1st parity sows: Prevention of seasonal anestrus on day of weaning.
DOSAGE: For all indications: One dose of 5 mL of the reconstituted product by IM or SC inj.
PRECAUTION: In case of anaphylactoid reaction, 2-3 mL adrenaline (1:1000) should be given.
PACKAGING: Vial single dose x 5 mL, 5 doses x 25 mL with solvent.