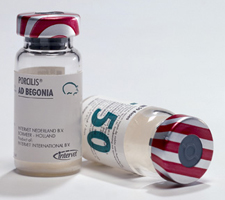 Freeze-dried live attenuated vaccine against Aujeszky's disease. Per dose: At least 10 exponent 5.5 TCID50 of Aujeszky's disease virus strain Bego­nia. This strain neither synthesizes thymidine kinase (tk-) nor the glycoprotein 1 (gE-).
INDICATIONS: Immunization of pigs against Aujeszky's disease (pseudorabies).
DOSAGE: Reconstitute with the use of either standard Unisolve or adjuvanting Diluvac Forte. 2 mL/dose by deep IM inj. Vaccination program: Fattening pigs – Administer when pigs are at least 14 wks old. No revaccination is needed. Risk of early infection, pigs can be vacci­nated before that age but should be revacci­nated at age of at least 10-14 wks, although not earlier than 2 wks after first vaccination. Breeding pigs – Basic vacci­nations, as for fat­tening pigs. Repeat vacci­nations 4 mos interval, 3 times yearly.
PRECAUTION: Vaccinate only healthy pigs.
PACKAGING: 10 doses, 50 doses.