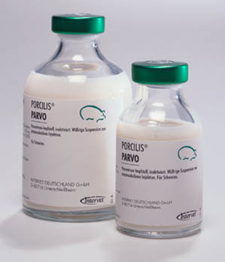 Inactivated vaccine in Diluvac Forte adjuvant, porcine parvovirus strain 014.
INDICATIONS: Vaccination of sows and gilts in order to protect their embryos and fetuses against porcine parvovirus infection.
DOSAGE: 2 mL/pig by deep intramuscular injections behind the ear.
–Initial vaccination:

Gilts: 1 vaccination, preferably at 6-7 mos of age but at least 2 wks before first mating.
Sows: 1 vaccination, at least 2 wks before mating. Revaccination: 1 vaccination per year at least 2 wks before mating.
PRECAUTION: Vaccinate healthy animals only.
PACKAGING: Vial 20 (10 doses), 50 mL (25 doses).