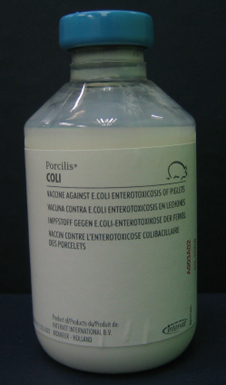 Inactivated vaccine containing per dose: 100 ED50 of Escherichia coli heat-labile toxoid and Escherichia coli fimbrial antigen F4ab (k88ab), F4ac (K88ac), F5 (K99) and F6 (987 P) in Diluvac Forte.
INDICATIONS: Prevention of neonatal Escherichia coli enterotoxicosis in piglets. The progeny of properly vaccinated sows and gilts are protected against Escherichia coli infections by receiving passive immunity via the colostrum. Dissolving the vaccine in Diluvac Forte enhances the immune response.
DOSAGE: IM route: 2 mL. Animals not previously vaccinated with Porcilis Porcoli DF should be given 2 doses 6 weeks apart.
Pregnant sows and gilts:

The first dose should be given at least 8 weeks before the expected farrowing date.
Revaccination: A single dose should be given prior to each subsequent farrowing. Usually, this means every 5 or 6 months. Alternatively, breeding stock can be vaccinated one and the same day, twice per year.
PRECAUTION: Vaccinate healthy pigs only. Allow the vaccine to reach room temperature (15-25ºC) before use. Shake the vaccine before and during use. Use sterile syringes and needles. If not used within 3 hours, opened bottled should be discarded.
PACKAGING: 50 mL vial (25 doses).